Dr. V. S. Jaitawat , Director Student's Welfare - Directorate of Student Welfare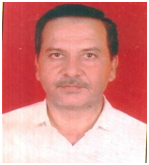 Dr. Jaitawat was born on 12th May, 1964 at Jodhpur. He did his B.Sc. (Agri) from Rajasthan College of Agriculture, Udaipur in 1985 and M.Sc. from Rajasthan College of Agriculture, Udaipur in 1989. He did his Ph.D. (Ext. Edu.) from SKN College of Agriculture, Jobnerin 2006.Dr Jaitawat has an experience of more than 27 years in different capacities starting from STA (Ext. Edu.) in January, 1990 against Asstt. Professor to Dean, College of Agriculture, Mandor.He also holds the charge of Controller of Examinations at Agriculture University, Jodhpur. He has published more than 50 publications including research papers, book chapters, books, popular articles, abstracts, folder, and bulletins. He delivered more than 200 lectures to the farmers and 10 radio talks. He is life members of Indian Society of Extension Education, Agra Society of Extension Education and Rajasthan Society of Extension Education.
The environment and the people around a person leave a great impact on his/her development. The University, therefore, tries to provide its students an excellent academic environment along with good sports and cultural exposure which provide concentration in study to students. Best company of fellow students selected through a competitive entrance examination leaves lasting impact on the student. The University ensures a balanced development of mind and body faculties of each student to make him a complete being. Sports & Games are places where students exchange their views and motivate themselves for taking positive energy. Keeping in view the above, University has created a Directorate of Students' Welfare with the aim to plan and organize the co-curricular activities for the students at the University and College level. The main objectives of the Directorate are to coordinate different activities of Sports, Literary, Cultural, Moral Education, and Placement & Counseling etc. to facilitate the overall personality development and to inculcate the basic values amongst the young students of the University to groom them as a Good Citizen of the Nation. The Directorate is also supervising the Students' Union activities to allow them to work in a democratic setup to solve the genuine problems of the students and to bridge the gap between the students and University administration. The faculties and administration of the University seek at all times to impress upon the students the fact that moral and spiritual bases are the cornerstones for the development of character and good citizenship. A student is expected to remain disciplined under all circumstances, show respect for rights of others, and reflect a sense of personal honour as demanded of good citizens. The overall standard of student discipline in the University is of high order. The academic schedule are regular. Extra- curricular and sports program have seen active participation of students.
Mandates
---NA--
Staff of Directorate of Student Welfare
| S.No. | Name | Designation |
| --- | --- | --- |
| 1 | Dr. V. S. Jaitawat | Director Student's Welfare |
| S.No. | Name | Period |
| --- | --- | --- |
| 1. | Dr. R.S. Chawra | 18-10-2013 to 31-03-2014 |
| 2. | Dr. B. S. Rathore | 01-04-2014 to 01-08-2017 |
| 3. | Dr. Ishwar Singh | 01-08-2017 to 06-09-2019 |
| 4. | Dr. V. S. Jaitawat | 06-09-2019 to till date |
---
---