Dr. Ishwar Singh , Director Extension Education - Directorate of Extension Education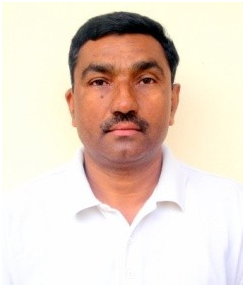 Dr. Ishwar Singh was born on 6th November, 1963 at Village- Boya, District- Pali in Rajasthan. Dr. Singh obtained his Masters (1987) & Ph.D. Degree (1997) from Rajasthan College of Agriculture, Udaipur. He joined the University service in May 1987 as Research Associate and has experience of more than 29 years in different capacities. He worked at ARS, Banswara, ARS, Ganganagar, ARSS Sumerpur and ARS Mandor. Dr. Singh has developed & refined more than 40 Agro-techniques and published 58 Research papers, 8 booklets and 34 popular articles, 5 book chapters on crops i.e. Mustard, Castor, wheat, Isabgol, Cumin, Fennel, Cotton, Green gram and Cluster bean. He visited France, Netherland and Belgium in 2007 and attended "International Conference on Organic Farming" at Ghent University in Ghent, Belgium. Dr. Singh is Life members of Indian Society of Agronomy, New Delhi, Indian Society of Oil seeds Research, Hyderabad and Arid Zone Research Association of India, Jodhpur. He was felicitated on 26th January 2016 by Hon. Vice Chancellor of Agriculture University Jodhpur for his meritorious services as Director Extension Education of Agriculture University, Jodhpur.
The Directorate of Extension Education (DEE) located in the heart of Jodhpur city at ARS Mandor. DEE as a constituent unit of Agriculture University, Jodhpur, entrusted with the responsibility of promotion of agricultural development in the state through quick transfer of technology by providing training, farm advisory services and information to extension personnel's of the line departments and farmers. For enhancing the process of transfer of technology, ICAR has established Krishi Vigyan Kendras (KVK's) in each district of the state out of which 6 KVKs are falling in the jurisdiction of AU under DEE. These KVKs have been given a mandate to provide training to the farmers, extension functionaries and demonstrate the improved technology both "on" and "off" farm. Directorate provides the backstopping and monitors the activities of KVKs. Three basic functions of the Directorate of Extension Education are training, advisory and communication.
Mandates
To formulate and impart specialized training to officers and field functionaries of line departments of government of India & Rajasthan and non-governmental organizations.
To conduct short and long duration vocational training for farmers, farm women, rural youth and school drop outs of the state.
To inculcate entrepreneurship and management skills among agriculture graduates, rural youth and farmers.
To provide farm information services through various extension activities for quick dissemination of technology.
To provide latest technology, literature and help line services for farmers through Agriculture Technology Information Centre.
Staff of Directorate of Extension Education
| S.No. | Name | Designation |
| --- | --- | --- |
| 1 | Dr. Ishwar Singh | Director Extension Education |
| 2 | Dr. Mahendra Kumar | Associate Professor (Extension Education) |
| 3 | Sh. Deepak Kumar Gujar | LDC |
| 4 | Mr. Jugga Ram | Driver |
| S.No. | Name | Period |
| --- | --- | --- |
| 1. | Dr. Ishwar Singh | 19-10-2013 to 28-02-2017 |
| 2. | Dr. B.S. Bhimawat | 01-03-2017 to 23-10-2017 |
| 3. | Dr. Ishwar Singh | 24-10-2017 to till date |
---
---